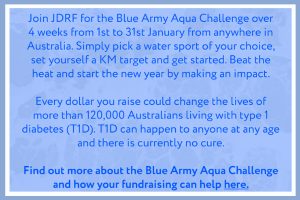 Beginning Jan 1, 2021 and concluding 31 Jan 2021 you can beat the summer heat and challenge yourself to achieve a KM target in the water sport of your choice by joining the Blue Army Aqua Challenge. You can surf, swim, kayak, stand up paddleboard (SUP), or row and select to travel 25km, 50km or 75km over the entire month.
KMs can be logged via a free Strava account or entered manually on a dedicated event and fundraising page.
Register your interest and be the first to receive the link to sign up when the website goes live soon! Start forming your teams now or take up the challenge yourself.
Help to change the lives of more than 120,000 Australians who live with type 1 diabetes (T1D) by raising funds for JDRF and help accelerate life-changing breakthroughs to cure, treat and prevent type 1 diabetes.