The 2021 Surf Life Saving Sydney Northern Beaches Branch Junior Championship core Beach events were conducted at North Narrabeen Beach on Sunday, 31 January, whilst the core Water events were conducted at Palm Beach on Sunday, 7 February. The Open & Masters Water 2021 Branch Championships were held at Palm Beach on Saturday, 6 February in challenging conditions.
Nippers
by Bec Capell, Nipper Chairman
We are so proud of the kids achievements and great sportsmanship they showed to both team members and other club competitors. Although it is wonderful to see our kids compete this could not happen without a huge amount of man power and parental help from IRBs, water safety, officials, Age Managers and the countless hours from our coaches. We are always looking at expanding our competitive team so please chat to your kids and see if this is something they are keen to try. We recommend using the coming winter months to build up their endurance in the pool and be ready for season 2021/22. The results of branch are well and truly too long to list but there was lots of bling! Well done to you all.
Bring on State – Be the best, enjoy it the most! The state team will be presented with their state packs on Tuesday, 23 February.
Opens
Too many great results to mention so we have chosen one highlight from the morning.
Congratulations to Mitchell Trim, Matt Bell and Max Brooks for winning the Open Men's Ski Relay.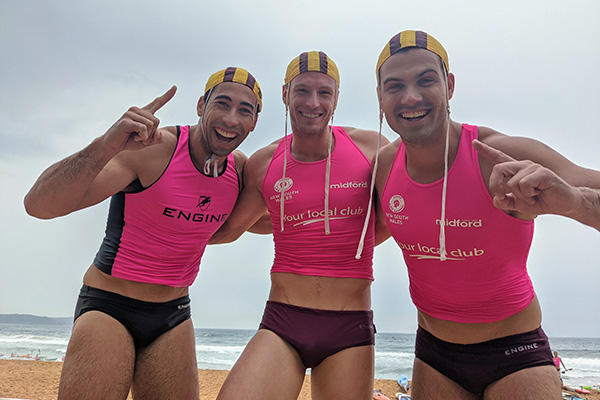 Masters
The Opens warned us about the bluebottles… and they were right! The swarms of bluebottles were so bad that the surf teams, individual surf swim and the ironman events had to be cancelled.
Newport had a larger representation than recent years and the girls are back!
Just like the Opens, the Masters also had too many individual wins and placings to mention.
Newport JAB (Jan Proudfoot, Amanda Lehman & Bec Capell) won the 130 years board relay quite convincingly.
The male 170 years board relay (Kevin Flood, Glen Borg and Guyren Smith) also had a win.
If you would like to join us next season (and start training during winter), please email our Competition Manager, Darren Warrener.