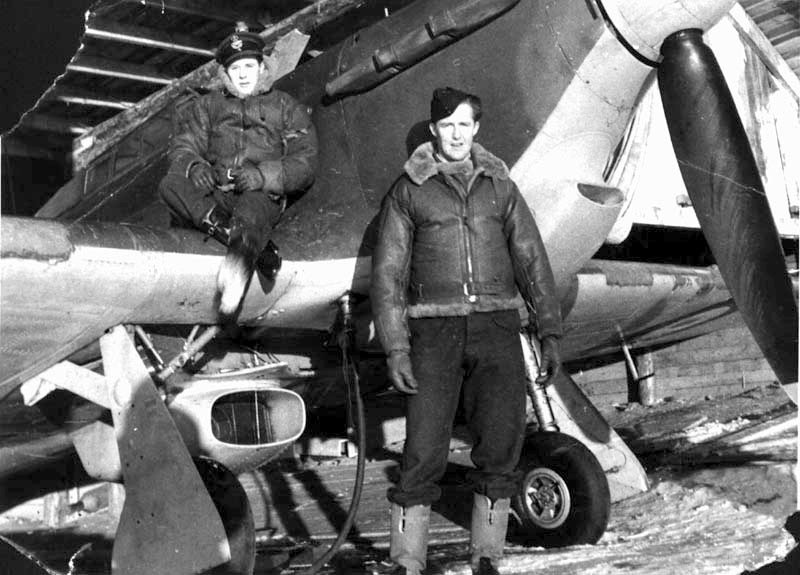 Recently I came across a short newspaper article from 1941 about a former Newport surfboat captain flying Hurricanes in Russia. Newport surf club history, surfboats and a childhood obsession with World War 2 fighter aircraft all in the one story – does it get any better?
Mark Sheldon was a member of Newport SLSC from the early 1930s to 1937, as he wasn't a member when he enlisted he doesn't appear on our Honour Roll. Mark was the surfboat captain and sweep and gained his Instructor's Certificate in 1934-35 season. In that season's Annual report he and two others were commended for a rescue they performed during the Christmas holidays, pulling twenty people out of a rip. He left the club at the end of the 1937 season, possibly his building business, based in Beecroft, was taking too much of his time.
In the lead up to war in 1939, the British and other Commonwealth governments developed the Empire Air Training Scheme, where the empire would provide pilots for the Royal Air Force. Airfields in Australia, Canada, New Zealand and Rhodesia soon filled with trainee pilots and aircrew. I next found Mark in early 1941 in the graduation photo for his Service Flying Training School in Canada. Of his class of thirty eight, by the end of the war, twelve had died by enemy action and another twelve died in accidents.
In April 1941, Mark joined 452 squadron in England, the first all-Australian Spitfire squadron flying operations over France and northern Europe.  On June 22, Germany and its allies invaded Russia and within a few weeks Great Britain and the USSR signed a treaty of mutual assistance. A large part of that assistance in aircraft and munitions was to be sent to Murmansk in northern Russia. Pilot Officer Sheldon and three other Australian pilots were transferred to RAF 81 squadron and soon found themselves on HMS Argus, an old aircraft carrier, headed to the Arctic. Arriving off Murmansk, the squadron had the unfamiliar and daunting task of flying their Hurricanes off the deck of the Argus. Their task in Russia was to help train the Russian pilots on the Hurricanes and to give air cover to the constant convoys arriving in Murmansk. Their job done and the Russian winter dropping daytime temperatures to -15 degrees, the squadron headed back to Britain in late November, arriving in Rosyth, Scotland on 7th December, 1941.
With Australia now threatened by Japan, Mark and other RAAF aircrew were sent home from Europe. In May, 1942 at Kingaroy in Queensland Mark joined 75 squadron and started getting accustomed to the powerful American P40 Kittyhawk. To control New Guinea and Australia's north, Japan needed to take Port Moresby. The first part of their plan was under way across the mountains and the Kokoda Track, the second part was to take control of Milne Bay, on the far eastern tip of New Guinea. Over ten days in August 1942 Australian forces inflicted the first defeat on the Japanese and denied them control of the strategic harbour. 75 and 76 squadrons were in the thick of the fighting and it was on 11th August that P/O Mark Sheldon was shot down and killed. He was twenty eight years old. He is buried in Bomona Cemetery, near Port Moresby.
Mark was one of the thirty four thousand Australians to die in the Second World War and for Mark it was a world war, Canada, England, Arctic Russia and ending in the steaming jungle at Milne Bay. While the tragedy of the war was overwhelming, all loss is personal and one can't imagine the news of his death had on his parents, family and mates.
Seventy Newport members served in the armed forces from 1939 to 1945 and seven didn't come back. Mark Sheldon is like so many of the young blokes I know and have known in the surf club; builder, boatie, understated and in many ways unremarkable. However, when put to the test so many are capable of the remarkable. These are the men and women we honour on ANZAC Day.
Lest we forget.