An important reminder that this weekend, four of our Newport Life Savers will compete in the 5th and final round of the Kellogg's Nutri-Grain Iron series (see the previous article).
Whilst Lizzie Welborn will be in a battle for second place, Max and Charlie Brooks along with Jackson Borg will be pushing hard for results that will guarantee an automatic qualification into next year's series. Max, currently in 8th place, has his sights set on a top 5 finish.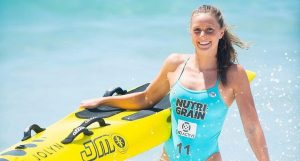 North Cronulla is hosting this last installment of the series where the group of 20 competitors will shrink to 5 in this thrilling Survival Round.
Round 5 Elimination Round – Survival will be shown on Fox Sport, 19 January 2020, at 2 PM AEDT.
Max, Charlie and Jackson are featured in our Club's 110th Anniversary book, "Our Second Century" which chronicles the last ten years of the club.  It also covers the journey of our 3 Nippers from young boys to elite athletes.
Be sure to pick up your copy from either:
the Bar during "After 5s";
the Nipper Shop; or
online through our website.
At $30 it's a steal and the perfect gift for anyone related to the club or if you want to give friends or family from afar a taste of life growing up in Newport.
If you or your kids have been around the club in the last ten years, you are sure to find yourself in the book!
see related story