Our Newport surfboat competitors did not disappoint at the 2020 NSW Surf Life Saving Championships, a race report by Michael King.
"A fantastic weekend of surfboats […] our best ever, topped by our first senior men's gold medal since 2004.  Blacksmiths Beach didn't make it easy, a gnarly, crunchy shore break at high tide, no room on the beach and plenty of size on the back bank on Saturday.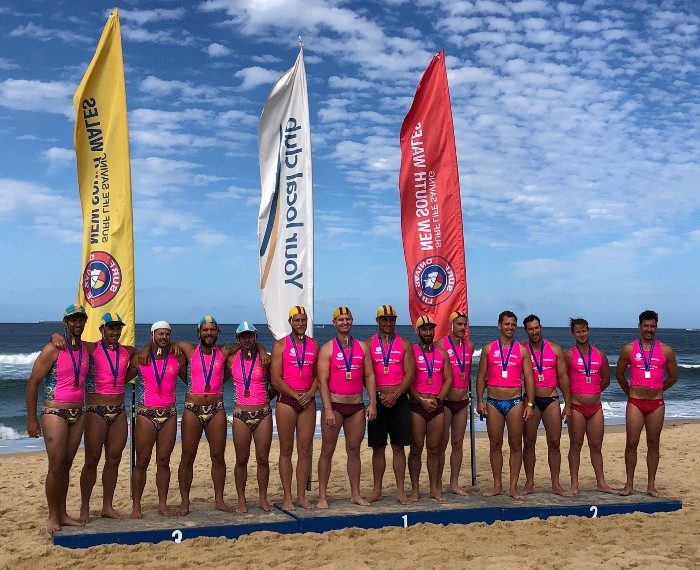 The Reserves 'Shellfish', Tom Holland, Tom Howes, Scott Quin, Jimmy Brook and sweep Mitch Foran were in good form all weekend and had the oomph to punch over the line first on a party wave to win.  The Open Men 'Hellfish' Alex Brown, Hugh Pender, Lucas Wilson, Jake Butcher and Mitch sweeping were so close in the final [and finished] fourth.
The U23 Girls 'Thunder' Ellie Clubb, Claudia Harris, Abby Ballesty, Tara Doyle and MK sweeping finished third, another close finish. For Abby and Tara, this was their third consecutive State Bronze in U23s. Both the Open Women, 'Firefish' and Reserves Women 'Nudibranchs', qualified for Sunday, but not the finals. Our novice U19 Boys 'Noodlefish' just missed out on Saturday as did the Open Women 'Jacksons', thwarted by an injury in their first round.
Thanks to Serena Reid, Tash Grice and Megz Barr for filling in with different crews to keep everyone going.
First race Sunday saw 'Thunder' and 'Jacksons' taking on the shore dump in the first leg of the Lifesaver relay, the water team did their bit and we finished second and fourth respectively.
Kicking off the weekend on Friday, the 'Flounder', Masters 240 took on the surf. Expertly swept by Rob Emerson, Jack and Bags Holland, Stu Torrington and Otmar Nouak missed the final, but cracked a screamer in their second round- and even came aft!"

Newport Results:
U19 Male (Noodle Fish) – Top 14
U23 Female (Thunder) – 3rd, Lifesaver Team 1
Reserve Female (Nudiebranch) – Quarter Final (Top 16)
Open Female (Jacksons) – Injury retirement in heats, Lifesaver Team 2
Open Female (Fire Fish) – Semi Final 1 (Top 12)
Reserve Male (Shellfish) – 1st
Open Male (Hellfish) – 4th
The finals in the following video: Ressies at 5.23, U23 Firls at 5.32, Open Men at 6.34. Taplins and iron races are on just before boats, both worth watching.