The 2020 Australian Surf Rowers League (ASRL) Open, held at Mollymook Beach (South Coast NSW) from 14 – 16 February 2020 featured close to 350 crews from 86 clubs.  The Open delivered an exhilarating couple of days of surf boat racing as reported by Michael King:
A big weekend of racing at Mollymook for the ASRL Australian Open, with crews from every state and six Newport crews in the mix. The event also included the Trans-Tasman series with the Australian team vs New Zealand and the Interstate series. Our U23 women's crew representing NSW. Racing started on Friday with the Reserve Men's and Women's teams battling big surf, that turned bigger and nastier.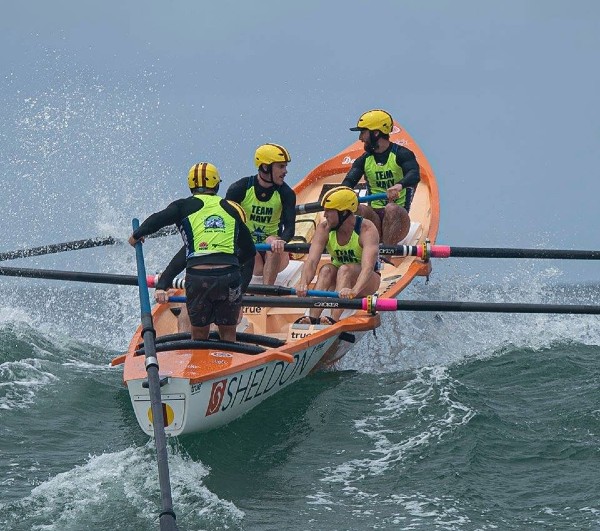 The "Ressies Men" team Shellfish performed well in their First Round to get straight through, whilst the "Ressies Women" team Nudibranch ended up in the repechage.
Charge the ladies did when the boat was picked up by a backwash and landed straight into what looked to be ten-foot of whitewater.  As quickly as they had attacked the surf, the crew and boat surged backwards and upside down. Following the harrowing start of the women's team, the men's races fared no better with only one crew out of six managing the break.
After numerous start misfortunes, including synchronised dual backwards end-for-end, racing was finally cancelled for the day. Saturday, the teams went south to Long Beach at Batemans Bay.  Although not as severe conditions as the 10-12 ft at Mollymook, the shore dump at Long Beach reminds that of Umina with a bit of Mona Vale Basin.
The U23 Girls, Thunder won four out of six races and finished third in the final. Great work from their new bow girl, Ellie Clubb in her debut event. Our two Open Women crews Jacksons and Firefish raced their rounds, but unfortunately did not make it through to Sunday. Sunday was back at Mollymook.
Although the teams still featured challenging waves, these were much more manageable than the previous two days.   Both Men crews were on fire, the "Ressies Men" finishing with an excruciatingly close fourth place, missing the win by just twenty meters. In their semi-final, Open Men Hellfish, suffered the same fate in the same alley.
Unfortunately, the Interstate was cancelled as the comp ran out of time.  The U23 Girls did not get to race for NSW (but they're keeping the merch). A great effort by all, with a fantastic spirit and support for all crews. A special thanks to Ellis James, who came down and filled in with Shellfish on Friday, then spent the rest of the weekend towing and carrying boats, putting up and taking down tents and helping just about everywhere.
Thanks for the awesome report by Michael King, who manages to control the stern and sweep our U23 Girl's team, WHILST keeping a keen eye on all racing developments!